Meeting all customer requirements
For over fifty years our customers have learned to expect quality that meets or exceeds their requirements.
We provide complete traceability and device history records for every lot of product that we manufacture for our customers.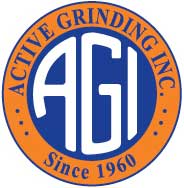 Since 1960 Active Grinding Inc. has been well known for the highest quality services and the highest standards.
ISO 9001:2015 Certified and AS 9100 Compliant
QUALITY
Our commitment to quality, craftsmanship, and on-time delivery is supported by ISO 9001:2015 Certification and AS9100 compliance, and many years of experience and professionalism in the grinding industry.
Our quality system encompasses receipt, identification, stocking and issuance of parts and material, and the entire process of manufacturing, packaging, storage and shipping.
We are committed to increasing productivity, reducing lead times and ensuring high quality. We are ready to respond to your company's needs.
In order to better serve you please do not hesitate to contact us with any questions This email address is being protected from spambots. You need JavaScript enabled to view it.